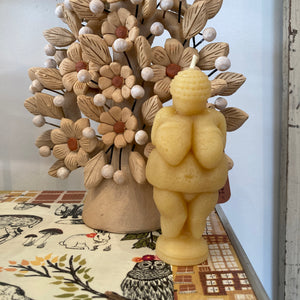 Dreaming of the Bee
Venus of Willendorf Beeswax Candle
Regular price
$14.00
$0.00
Unit price
per
This Venus of Willendorf candles are a wonderful beeswax candle for your altar.  They are hand poured in small batches and made in special ceremony.  The Venus in all her glory as a symbol of fertility can help one focus on the celebration of life and motherhood.  They take time to make mindfully at Dreaming the Bee, a treatment free apiary in Starkville, Mississippi.  
Details:
4.5" tall
Burn time is approximately 7 hours 
100% beeswax from Mississippi
Meet the Maker
Dreaming of the Bee is the work of Ali Pinion who is a bee guardian in service to protecting pollinators.  Her work with bees reaches beyond the actual work to a deep spiritual connection with the sacred bee.  Her work with bees is dream inspired and through it she has felt a deep sense of belonging and purpose.  Making products with the gifts from the bees is her way of teaching people about the wisdom they have to offer.  Bees depend on their community to survive and so do we humans.  We sure can learn a lot from the bees.  
---